Electron Cash Wallet Gets 'Mecenas' Recurring Payments Plugin for BCH
August 25, 2019 by Jeff Fawkes
The Electron Cash BCH wallet now has a new easy to use plugin called Mecenas. Mecenas means "Patron" and it allows BCH users to make payments that execute automatically at set times.
Also read: Do You Support 'Privacy Coins'? If so, Which One?
Subscribe to the Bitsonline YouTube channel for great videos featuring industry insiders & experts
Mecenas Allows Users to Execute Recurring Payments
What's Mecenas used for? It is to set up an automated system for recurring payments to the user's favorite actor, performer or any other talented person who accepts BCH. Content creators usually tend to save their donation addresses on their homepages and social networks. In terms of the script, the user needs to set the payment details only once, and all further payments are automated.
Licho, a user from Reddit's r/btc group, posted an announcement of the easy to install smart contract system he created for Bitcoin Cash. The contract is not written in CashScript like other recent contracts. It uses the Spedn language, which is similar to CashScript "but older, indie and made by Pein Sama."
Here's a video showing how to make a contract:
If you're interested in this type of plugin for Electron Cash, please visit this page to download.
Interesting Features in Use Without the Need For Millions
What Mecenas is performing is a typical "smart contract" functionality, one which doesn't require millions of USD in investments and works on the Bitcoin Cash blockchain. It's an example of good developer just taking some time to invent their products without the need to promise a time machine or a cancer cure-backed tokens to complete the task (and get attention).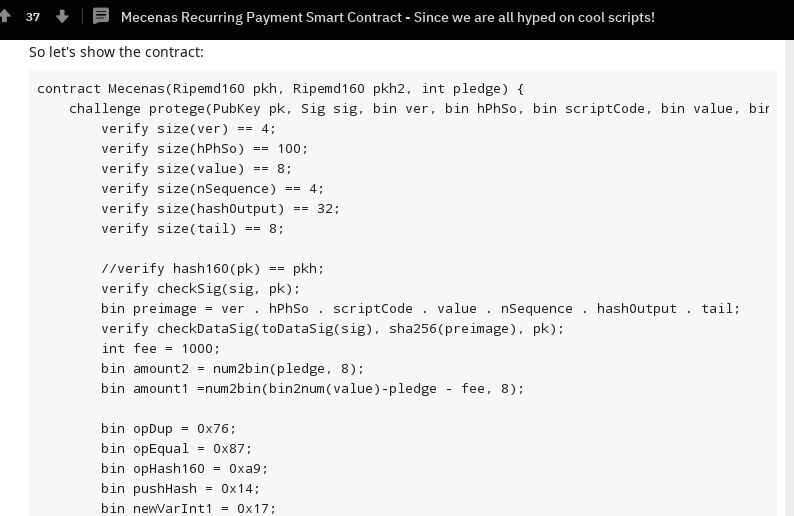 With this script, users can send payments to colleagues, sell original content, support people in need, and many more things. It has the ability to fully automate accounting on regular payments for other materials and plants as well. Humanity won't need to fire people who work as junior accountants –these folks can instead pass a few exams and prove they have learned to use cryptocurrency systems well. After that, they could get jobs working as crypto service administrators who create and watch over automated payments with correct sums and names, and streamline the infrastructure.
Nowadays, when ICOs and IEOs are done mainly to generate profits for their founders and early investors, Bitcoin Cash developers work for free to deliver a new code that is available without passing KYC or registering on some website.
The appearance of Mecenas could be a sign of a new era for Bitcoin Cash. Since its inception, we no longer need to look outside Bitcoin to find a coin that has support for smart-contract functionality at this level.
You could say that Bitcoin has smart-contract functionality already. Yes, indeed, but it is used poorly and Bitcoin Core has disabled parts of Satoshi's content over the years so that some other company could offer the same products for money.
What do you think about easy to install and use plugins that actually do something instead of issuing tokens? Share your opinions in the comments.
---
Images by Jeff Fawkes