By CCN Markets: A Twitter user who goes by the name of @XRPBallzD33p told his followers last month that he was going all-in on his Ripple (XRP) investment. Or to use the parlance of our times, he went BALLZ deep.
So deep, in fact, that he took out a loan he couldn't afford to pay back just in order to get a piece of that XRP pie. As the die-hard Ripple supporter tweeted on July 27th:
Just went BALLZ deep in $XRP

Took out a loan for *way* more than I can afford to pay back

I am NOT bragging or flexing here. My aim by staying this here is to document my BALLZ DEEP journey with you all as an educational material source.

WISH ME LUCK!!! 🤪#XRPcommunity

— 🦅XRP PHOENIX🦅 (@XRPBallzD33p) July 27, 2019
That was when the XRP coin price was sitting between $0.40 and $0.46. Unfortunately, in the three weeks since then, XRP has done nothing but sink. The coin's losses even began to outpace those of its peers when the recent market dip struck on August 14th – perhaps related to the recently amended lawsuit which now demands a response from Ripple Inc.
Taking the mid-point of XRP's price on July 27th, the XRP bags purchased by @XRPBallzD33p are now down by under or over 40%, depending on the buy-in price. Today the XRP coin price is found trading at the $0.26 range.
Ripple Faithful: If You're Going Through Hell, Keep Going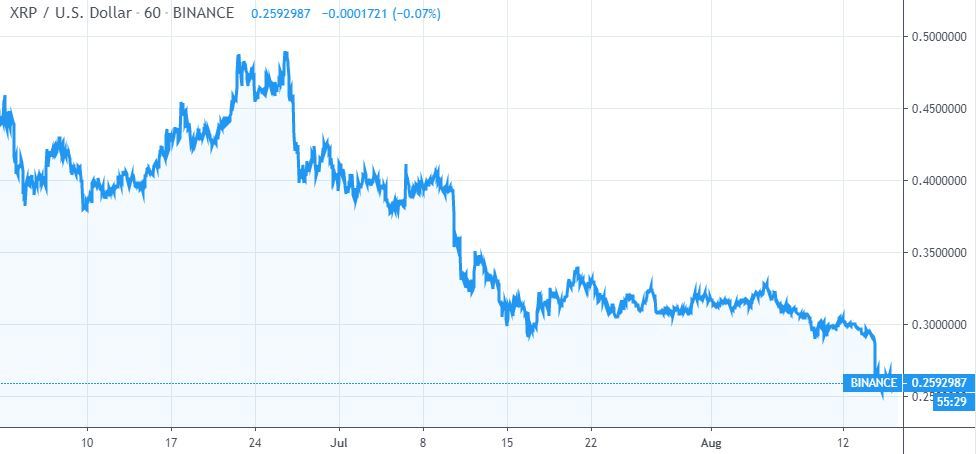 August 14th's market drop was met with a response from @XRPBallzD33p, as he updated his followers on the status of his investment. His plan? To buy more XRP at its now reduced price:
To all who give a damn:

I stupidly kept some money left over to buy cheaper when I got the loan. Glad I did now. I am now fully positioned for the Q4 blast off.
Don't worry about the Phoenix 😎👍 #XRPcommunity #xrpthestandard

— 🦅XRP PHOENIX🦅 (@XRPBallzD33p) August 14, 2019
This display of undying loyalty to a particular coin is not uncommon in the cryptocurrency space – not in the slightest. Likewise, many remain convinced that the market is headed for the moon, even amid losses such as these, and massively declining trade volume across the board.
Despite the recent downtrend, even the CEO of the world's largest cryptocurrency exchange is maintaining a bullish stance. Changpeng Zhao (CZ) of Binance continues to chide those who sold their Bitcoin below the $10k mark.
Slap yourself,

if you sold $BTC under $10,000.

— CZ Binance (@cz_binance) August 1, 2019
He retweeted it again on August 16th, with Bitcoin down 26% in the past eight weeks, and struggling to recover from a further nine-day drop of 20% which carried the Bitcoin price down to a low of $9,682, according to CoinMarketCap.
The owner of a cryptocurrency exchange might have good reason to maintain a bullish stance. But as for the devout crypto faithful on the ground floor… will their faith be repaid?
Click here for a real-time Ripple (XRP) price chart.
This article is protected by copyright laws and is owned by CCN Markets.