Since September 2, within four days, the bitcoin price has recovered from $9,500 to $10,700, rising by well over 10 percent against the U.S. dollar.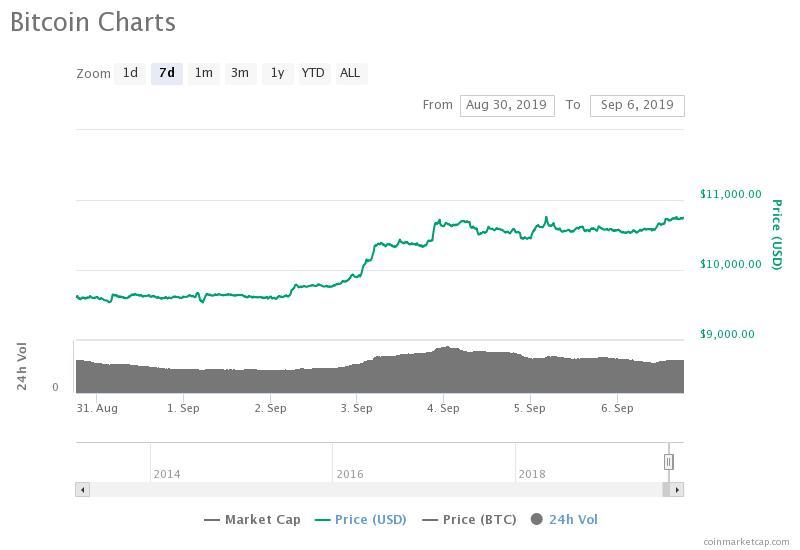 As bitcoin stabilizes above an important resistance level at $10,000, technical analysts anticipate the asset to establish a basis for the next rally.
Potential yearly high by the year's end for bitcoin
Historically, following a strong breakout, bitcoin has tended to remain relatively stable for several months before initiating a large upside movement as seen in 2015 to 2016.
Josh Rager, a cryptocurrency trader and technical analyst, said suggested the possibility of bitcoin achieving a new yearly high by the end of the fourth quarter of 2019 if $9,000 as support is not broken.
He said:
"This current structure reminds me of 2015/2016 when Bitcoin did a 2.5x from the bottom followed by 6 months of sideways. Then out of nowhere an almost 2x in price as Bitcoin slowly trended up to new highs One thing is for sure, I don't want to see that $9k support break.

To follow up If BTC price does break $9k, it's not really any reason to panic as many buyers will likely step in by high $7ks For me, it's having to sit through weeks of down/sideways price which makes for a slow market But patience is key."
Bitcoin still has strong resistance levels and ranges to climb with an eye for a yearly high in the upcoming months.
For instance, $12,300 and $11,400 have acted as resistance levels which bitcoin has struggled to test since July.
Hence, it is possible that BTC tests resistance at $11,400 and potentially $12,300 only to test the $9,300 to $9,700 support range in the short term.
Catalysts exist
Traders anticipate the launch of trading venues such as Bakkt and investment vehicles in the likes of VanEck's "limited ETF" to act as contributing factors of the next upside movement of bitcoin.
Although Bakkt would merely demonstrate the real demand of investors in the market and it could intensify the downside movement of the asset as well, investors expect Bakkt to bring more liquidity into the market, facilitating more demand from a broader market of investors.
Click here for a real-time bitcoin price chart.