Switzerland's central bank is fretting over the possibility of stablecoins pegged to foreign currencies eroding its ability to use its monetary policy tools effectively, further complicating the path for cryptocurrency projects such as Libra.
This was revealed by the chairman of the governing board of the Swiss National Bank, Thomas J. Jordan, in a speech delivered at the University of Basel.
Per Jordan, if foreign-currency stablecoins become dominant in Switzerland, the SNB's ability to ensure price stability will be weakened:
…if stable coins pegged to foreign currencies were to establish themselves in Switzerland, the effectiveness of our monetary policy could be impaired.
The SNB, however, sees no such threat from Swiss franc stable coins.
"No point of launching retail central bank stablecoins"
While Switzerland has been viewed as relatively progressive with regards to cryptocurrencies, Jordan pointed out that he sees no use for a central bank digital currency (CBDC) for retail users such as households and businesses.
According to Jordan, this is because Switzerland's cashless payment system is "reliable, secure and efficient" and thus ensuring that a retail CBDC would bring "virtually no advantages"
Though the SNB Chairman's speech was to commemorate milestones achieved by the University of Basel's Faculty of Business and Economics, it could easily have been a Facebook event as Libra was mentioned 7 times in a seven-page speech. So what does the SNB think of Libra?
Facebook Bank Inc?
Going by the SNB chairman, Facebook's cryptocurrency project should expect to be regulated more rigorously. The SNB chairman is championing "regulating by technology" rather than "regulating by activity". According to Jordan, the stable coins whose economic function is comparable to that of bank deposits will be required to "play by the same rules as bank".
This is not a view that is restricted to the SNB though. Less than two months ago U.S. President Donald Trump also warned that Facebook's cryptocurrency project might have to seek a banking license.
….Similarly, Facebook Libra's "virtual currency" will have little standing or dependability. If Facebook and other companies want to become a bank, they must seek a new Banking Charter and become subject to all Banking Regulations, just like other Banks, both National…

— Donald J. Trump (@realDonaldTrump) July 12, 2019
And in instances where a banking license is not necessary, issuers of stable coins will be treated like other financial market participants.
Stablecoins slaying Bitcoin
Jordan also indicated that he was of the view that stablecoins had a brighter future than regular cryptocurrencies such as Bitcoin. This is primarily because they don't suffer from the wild fluctuations in value and thus more likely to reach mainstream adoption, according to Jordan:
Stablecoins therefore hold greater promise for widespread deployment as a payment instrument and store of value than today's crypto tokens.
Currently, the leading stablecoin Tether enjoys the highest daily trading volume of any cryptocurrency, per Coincap. Other stablecoins such as TrueUSD are also faring well.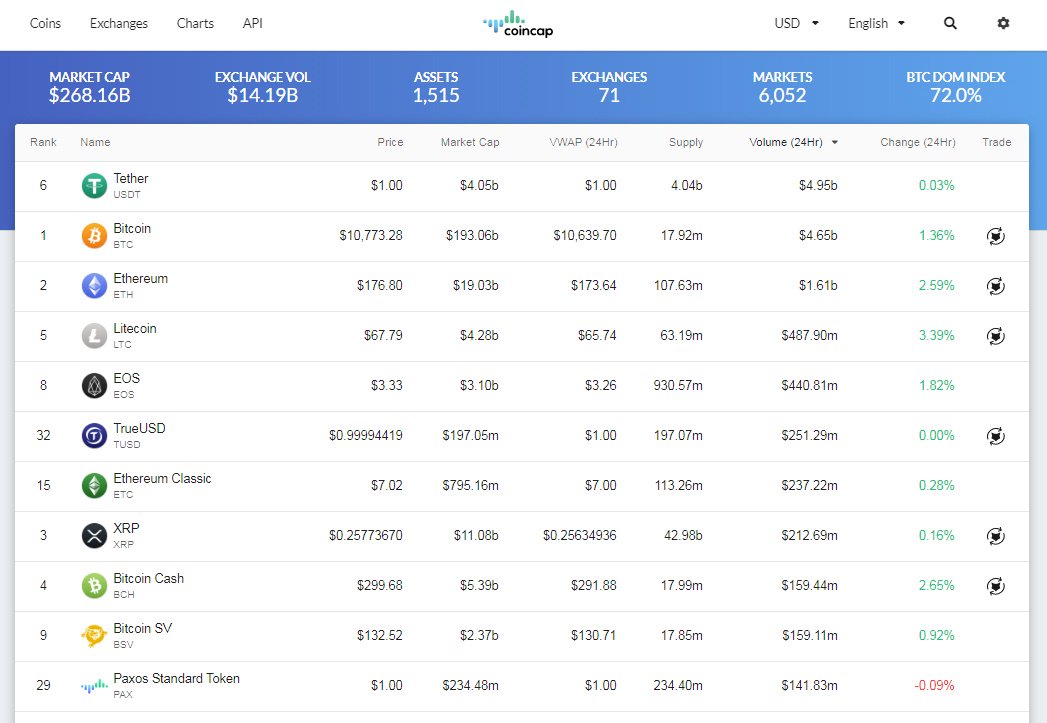 This is despite the market caps of the two varying significantly – Bitcoin at over $190 billion and the Tether stablecoin under $5 billion.