Reviews, they are part of most people's life. We use them. We act on them. We need them. Let's first go throw some stats.
97% of people read reviews for local businesses
93% of consumers say online reviews impact their purchasing decisions.
68% of consumers will leave a review if asked.
89% of consumers read businesses' responses to reviews.
92% of B2B buyers are more likely to purchase after reading a trusted review.
(Statistics from: BrightLocal, G2.com, Podium and BIA/Kelse)
According to the stats you can see how much value and impact reviews can have for companies, businesses and customers as well. However in centralized system we have some problems that comes with it.
Fake reviews, deleting or editing reviews and harming the customers this way, not rewarding the high-quality reviews, etc.
and here comes Revain to help. Now you will be able to read about few features that Revain have and how they work.
 
Revain verification system
 1. AI (Artificial Intelligence)
Review automatic filtering
In the begging Revain used IBM Watson AI For filtration. After reviews submission every review has to go throw automatic moderation. Companies like VK (Russian bersion of Facebook) or Instagram are using this as well.
Right now is Revain using their very own AI that they master thanks to 2 years of platform existence.
Token Analyzer service is allowing Revain to automatically determinate the emotions of each review. Why? There are 3 key factors sadness, anger and disgust. Those factors needs to be on the same level, if for example anger is too much active in such a review the review is more likely not fully honest. It's forcing users to write the review with full honesty and after they calm down from bad experience.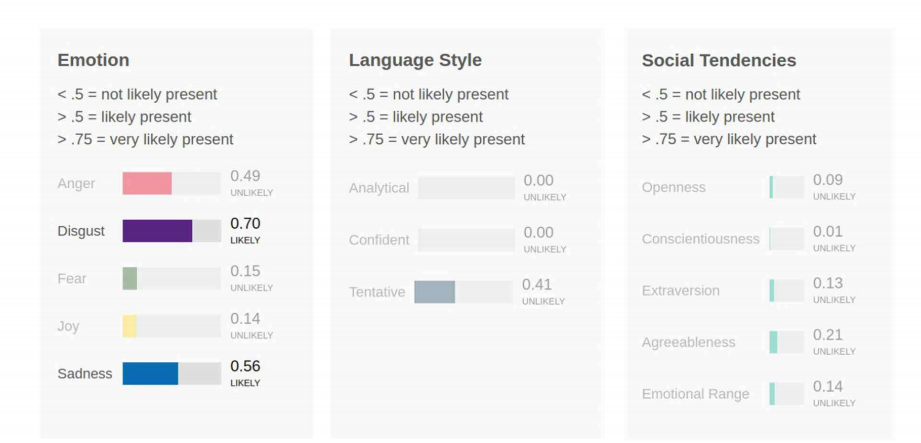 2. Manual checking by companies
Companies can pay Revain so they can give money to the users that are writing quality reviews. (Quality reviews does not mean good or positive ones of course).
In manual verification if the review gets rejected it's still on the blockchain and users can see it! Company is just rejecting the review from eligibility for rewards + they need to put a comment why.
If Revain will spot some suspicious rejections of bad and uncomfortable, but yet high quality reviews they can ban the company from the platform.
Users getting rewarded
High quality reviews that are judge by AI are eligible for rewards however company will also manually decide if they will give user reward or no. As I said before all the declination will be on blockchain with company commentary.
Also high quality reviews doesn't have to be good or positive.
Two token system (RVN and R token)
RVN token is used only on Revain platform and it's pegged to USD.
1 RVN = 1 USD
RVN is used to reward users and after that every user can change it for R tokens and go to exchange.
RVN is also used while interacting with companies
R token is token that is trading on exchanges

A Little bit of history
Revain ICO ended in early September 2017 rising $8,470,000 (25%) of its hard cap. Despite not reaching the hard cap they survived the worse in the bear market and developed their platform to 2.0 version as it is right now.
Right now the token is trading at 1.69x in USD and 2.70x in ETH from ICO price.
They've been updating their platform constantly. Right now fresh update to 2.0 version with new fresh look, expert implementation, review update implementation and many more. This just shows us their determination to succeed.
 What did they achieve and goals for future
Over 10,000 reviews is live on Revain platform now focusing only on crypto space
In future they want to storm the gaming platforms, e-commerce sites, booking website, etc… As well and become number 1 project on the blockchain in terms of reviews.
They aim to gather larger community doing various competitions.
 Conclusion
 Revain is project that is solving the real world problem, however they still need to gather bigger community and publicity. They've been working for 2 years now after the ico phase and they are moving forward still holding positive ROI from ico. They need more recognition and bigger integrity only time will show if they can truly become number 1.