By CCN Markets: Ethereum Classic (ETC) is currently on a massive bull run this week, increasing its price by 30% in three days. The cryptocurrency continued its surge steadily today, skyrocketing its value by over 15% today.
$ETC #EthereumClassic making a bit of a commotion. Is this finally the start of $altszn ? #crypto #bitcoinboom

— @Bitty 💫🐻⚡️ (@bittymcbitface) August 23, 2019
To understand ETC's current bull run, CCN has collected the main reasons contributing to the crypto's substantial value increase.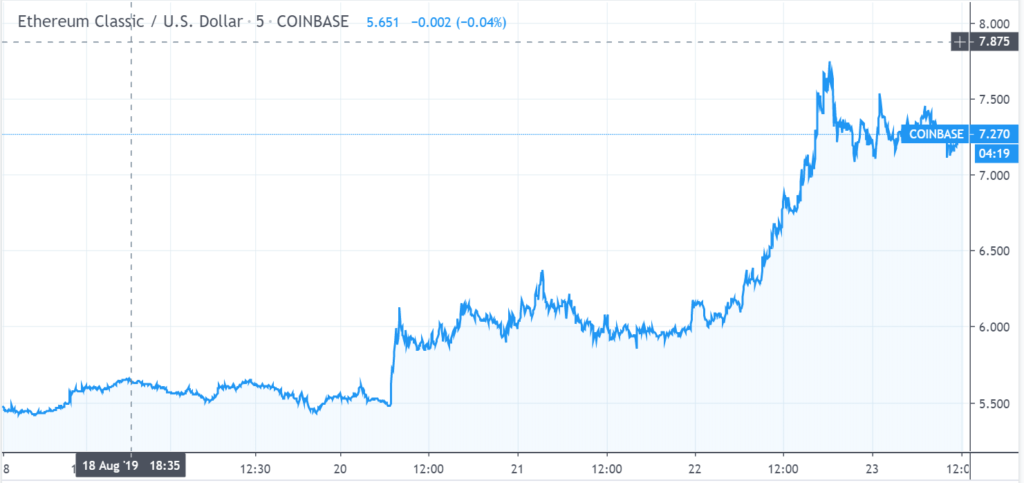 The Atlantis hard fork
While Ethereum is rolling out its Istanbul hard fork later this year, Ethereum Classic's network will be forked too, taking place on September 17 around noon (UST).
Dubbed as "Atlantis", the upcoming ETC hard fork is aimed at increasing the stability and the functionality of the Ethereum Classic network, which is not a bad idea considering the network's January 51% attack.
Another goal of Atlantis is to ensure compatibility between Ethereum Classic and its sibling blockchain Ethereum to boost collaboration between the two networks.
As the upcoming hard fork is widely accepted in the ETC community, there's a great chance that Atlantis will be pushed through easily in September.
Due to the facts mentioned above, ETC's Atlantis hard fork is considered as one of the top catalysts for the cryptocurrency's recent bull run.
The Ethereum Classic Summit
It is not unusual for a cryptocurrency to experience substantial price gains ahead of a conference. And this could be the case for ETC too as the upcoming Ethereum Classic Summit in October is relatively near.
With over 30 speakers announced already, the Ethereum Classic Summit will feature a wide range of crypto-related topics, including IoT, cross-chain interoperability, and blockchain-related social issues.
Recent ETC Labs partnerships
ETC Labs announced two recent partnerships that could have contributed to the bull run of the cryptocurrency.
ETC Labs published a blog post yesterday, announcing a new partnership with the London-based digital token capital markets investment group North Block Capital.
As part of the organization's Studio program, ETC Labs will work together with North Block Capital to create token sale initiatives for the London-based firm's clients, partners, and investments.
In addition to providing technical support for token sales, ETC Labs stated that the organization is acing up its marketing efforts for promotions targeting the Asian market.
Click here for a real-time Ethereum Classic price chart.
This article is protected by copyright laws and is owned by CCN Markets.