New York Pursues Tether Case – What's It All About?
August 22, 2019 by Jeff Fawkes
Cryptocurrency exchange Bitfinex and partner company iFinex are famous for creating allegedly suspicious assets like Tether, and have had some trouble fulfilling reporting and auditing promises over the years. Now New York Attorney General Letitia James has said she will unveil information that promises to shed light onto how Bitfinex and Tether operate and mint new coins.

Also read: Bitcoin Price Hovering Round $10K, But Could Rally Again
Subscribe to the Bitsonline YouTube channel for great videos featuring industry insiders & experts
Bitfinex Doesn't Want to Spend Time in Court, But Has To
Despite the Attorney General's office receiving several interesting accusations against iFinex, its lawyers been claiming in court that the investigation is meaningless, and must be stopped. iFinex Inc. doesn't want the judge to dig into allegations of money laundering, stealing from investors, misrepresenting the true scheme of the Tether minting process and other charges. The NYAG has stated that now it is too early to consider jurisdictional issues. First, the investigation must conclude.
The judge has said that the motion of dismissal that iFinex filed against NYAG is irrelevant, so the investigation can take any steps necessary to examine everything about the real operations of Bitfinex.
Is Tether a 'Crypto Federal Reserve'? And What's Next?
The NYAG's Office started building its case against Bitfinex and Tether in Q1 2019. What began as a normal court request has turned into something more serious for all researchers out there who are aware of the details. From the documents that the attorney has managed to gather, one can understand that Bitfinex has been allegedly misusing funds provided by large-scale investors, associating with questionable people, and hiding their accounting.
Also, they have exposed their connections to a wide list of cryptocurrency-related companies that don't want anyone to know they may be part of a secret cartel.
Thanks to researchers who don't take money for silence, we have heard that Crypto Capital Co., iFinex Inc., Bitfinex and a number of crypto exchanges could be tied to large money laundering scheme where even Colombian drug cartels are involved.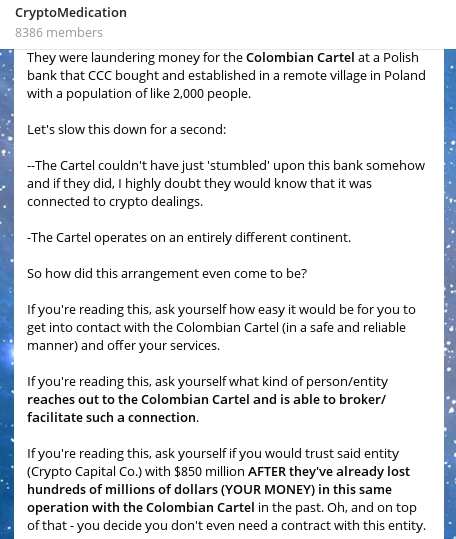 The OSINT efforts made by NYAG and researchers from portals like Zerononcense.com and Decrypt.co, as well as by campaigners like Bitfinexed, have brought forth a lot of information about the Bitfinex crew allegedly facilitating banking services and using Tether to manipulate the the BTC price.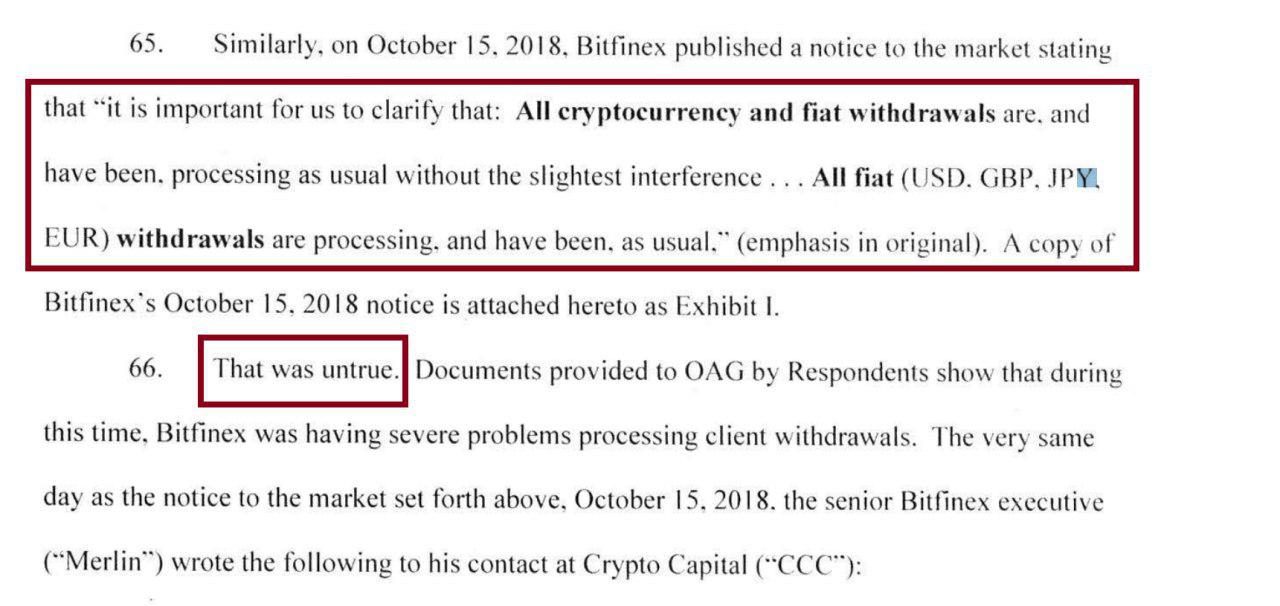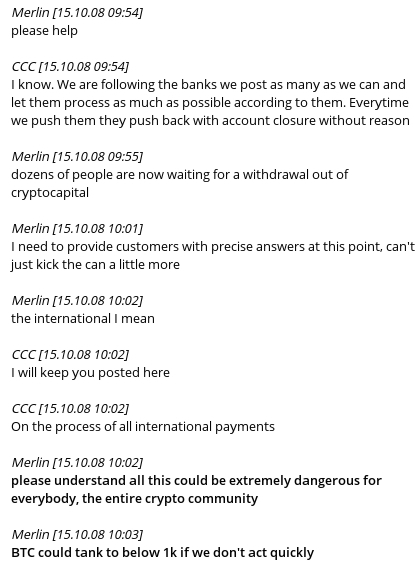 Sometimes I wonder: if (or when) Tether is brought down and the BTC price slides below $1,000 USD, will BTC maximalists stop crying about market manipulation in the space?
Exchange CEO Warns Against 'Conspiracy Theories', Possibly Too Late
Its interesting to note that Kraken CEO Jesse Powell has said on Twitter that price pumps in fact represent organic demand for BTC, not Tether manipulation. He has also suggested that people shouldn't believe in conspiracy theories. But those theories have plenty of supposed proof already in the CryptoMedication channel, the Bitfinexed channel, NYAG reports and on Decrypt, not to mention reports here at Bitsonline.
Powell knows what he's talking about, right? No, because I think the opposite is happening.
Whale Alert Bot Gives Food for Thought
Many of the researchers who were watching for Whale Alert Wallet Scan Telegram Bot during Q1-Q2 2019 noticed a clear pattern that works like a charm. Often after 20 minutes to two hours, Bitcoin's price started moving up if the following scheme was used:
1. Tether Treasury must mint 100,000,000 USDT (out of thin air?)
2. Send it to Huobi, Binance or Bitfinex
3. Buy BTC
4. BTC price skyrockets
5. PROFIT
Then,
1. Sell BTC at the high point
2. Drink some good wine while the price drops down
3. PRICE BOTTOM
4. Large exchanges send BTC to cold wallets (away)
5. Repeat the scheme.
This pattern was first noticed during Binance's "scheduled maintenance" outage that went on for two weeks in Q1 2019. Back then, the BTC price gained more and more support despite one of the largest exchanges going offline. If you look at the history of Whale Wallet Scan, you notice that someone had pushed enormous amounts of Tether through the market during that "maintenance". Then, from May till June 2019, Tether devs were simply "printing" (or "minting") Tethers — 100-300 million each week. Every time they "minted" a new batch of 100,000,000 USDT, the bitcoin price went high. The more it dropped, the more they minted.
From my own last three months' observations, you don't even have to be a signals pro or look over paid Telegram channels with tons of trading data and such. Just watch when a big batch of USDT goes to mainstream exchanges and that would be the beginning of a pump cycle, and then when they send a boatload of BTC away from those same exchanges it would be a dump moment. This pattern has worked for me since BTC was $6K in Q1 2019, till now.
Just observe for a week or so for yourself the Whale Alert Bot reports and you'll notice the trend. Look for transactions like +20,000,000 USDT/Binance, or like +15,000,000 USDT/Bitfinex-hot. When it's dumping time, look for large BTC transactions outgoing from the exchange.
Nothing Is New Under the Sun
According to the NYAG documents, potentially all the USDT tokens may not be backed by actual dollars (as iFinex originally stated) or any other asset that they have claimed to hold. iFinex Inc's lawyer claimed the company has 74 percent of its Tethers covered by U.S. dollars, and the remainder is backed by other blockchain assets. But those assets are unknown and the list may consist of pure trash projects that cost nothing and require holding 2 billion coins in the wallet to reach a $10 equivalent. Considering how fast these parties have additionally created UNUS LEO Token, the company's Tether backing cash pile may consist of the tokens that they or their partners have created by themselves.
Now, as Tether and Bitfinex will probably have to disclose their inner working documents to NYAG, the bitcoin industry may experience price downfalls… or even a grand pullback to the $3,500-$4,000 level.
What do you think about the possibility that Tether is used (instead of real innovations) to pump the price of BTC? Share your opinion in the comments.
---
Images by Jeff Fawkes, James Edwards
Disclaimer: This article is not an investment advice and shows the opinions of the author, not Bitsonline's official editorial policy.