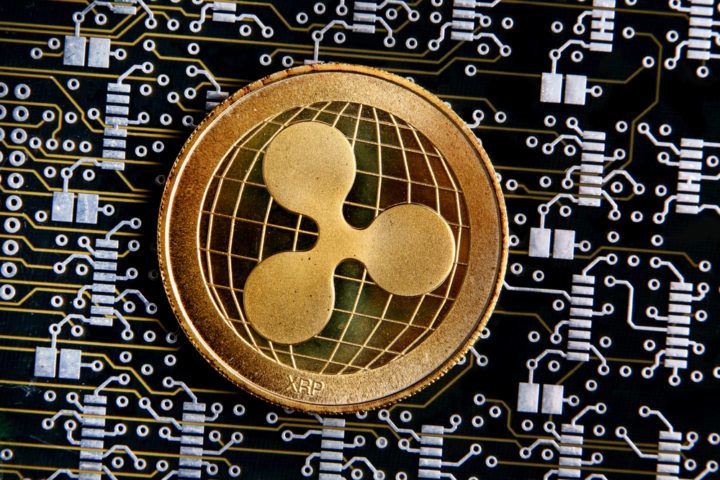 By CCN Markets: To say that Ripple (XRP/USD) is a laggard would be a huge understatement. The cryptocurrency has been in a long downtrend ever since it posted an all-time high of $3.30 in January 2018. It is currently trading around $0.25 which is a massive devaluation of over 92 percent in over a year and a half.
The brutal bear market has made many XRP holders unhappy. Some are starting to capitulate.
I'm out…sold all my personal XRP…

going to trade my way out of the hole that is $XRP, $ONE and $LINK are the start and there will be others before I return to $XRP…
just in time for launch (Oct/Nov/Dec/Jan—-Mar????)

— XRPBRad (@Braddles96Clark) August 21, 2019
That's because the market sentiment is extremely bearish. A pseudonymous account named Tradeboi Carti, MBA tweeted an XRP chart. In the tweet, the analyst wrote,
If XRP breaks this $0.27 support, it goes another -50% to $0.14.
$xrp This isn't me making fun of it or being an xrp hater but #xrparmy if XRP break this $0.27 support it goes another -50% to $0.14 and if it breaks that then 0. This is just the pure technicals. Be aware. Food for thought, not #FUD. If xrp 0 ripple will IPO mark my words #xrp pic.twitter.com/nstetsOO5S

— Tradeboi Carti, MBA (@tradeboicarti16) March 9, 2019
As we all know, the pair recently broke the support. Thus, fear, uncertainty, and doubt (FUD) in the cryptocurrency is likely to have reached another level. It also doesn't help that Ripple Labs Inc. is dealing with numerous issues.
XRP Community isn't Happy
Many people are accusing Ripple Labs of dumping XRP positions to unwitting retail investors. Their suspicions are not unfounded.
In July, CCN reported that the company dumped $250 million worth of XRP. As a result, the inflation rate of the cryptocurrency increased.
The continuous XRP dump by Ripple Labs urged user Crypto Bitlord to start a petition against the practice. In the petition, the user wrote,
Ripple continue dumping billions of XRP on us, crashing the price!
In addition to inflationary woes, investors have slapped Ripple Labs with several lawsuits. The latest complaint accuses the company of issuing an unregistered security.
The rising FUD in the community has prompted Ripple Labs CEO Brad Garlinghouse to address such concerns.
I'm always struck by the questionable sources (i'm being generous here) spreading FUD about #XRP and @Ripple. Even more so over the last few weeks (Ripple's XRP sales, litigation etc)…. thus, I feel compelled to comment

— Brad Garlinghouse (@bgarlinghouse) August 27, 2019
The tweetstorm did nothing to stop the selloff as XRP remains in a freefall.
This Crypto Lost Key Support and the Downside is Huge
A look at the weekly chart reveals the ultra bearish nature of the cryptocurrency.
Bears were able to breach key support of $0.28 on August 14th and retested it as resistance five days later. This price action tells us that Ripple is likely to ignite another waterfall event.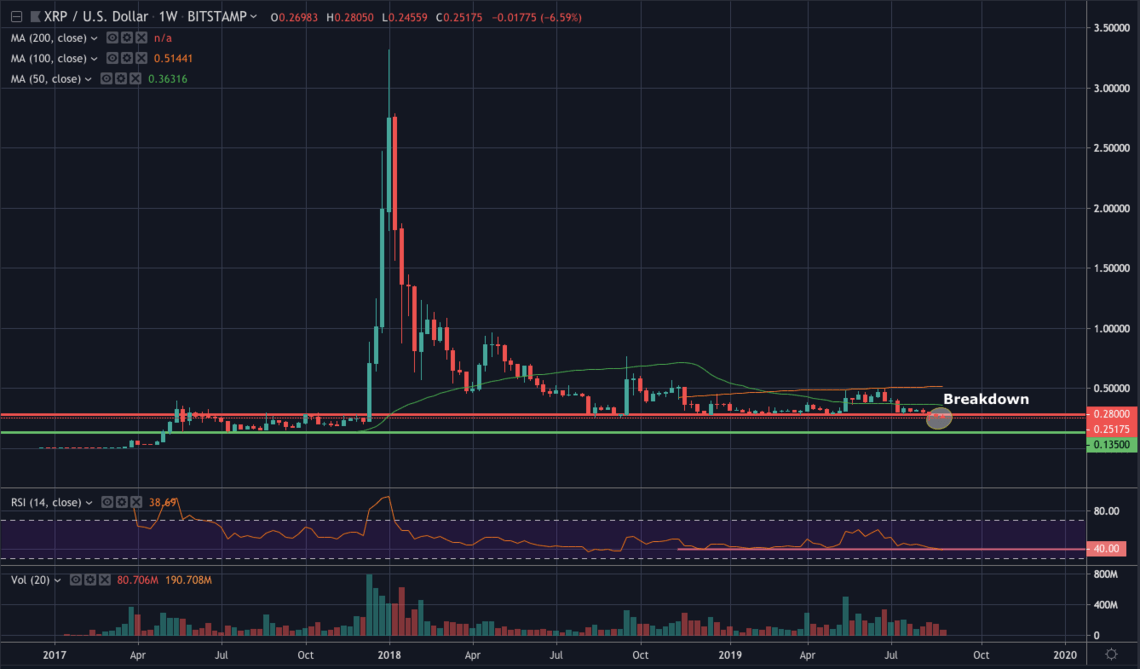 With $0.28 now acting as resistance, XRP holders have to hold their breath because the next durable support is $0.135. With Ripple Labs facing multiple lawsuits and controversies, XRP may continue to unravel.