By CCN Markets: 7News Sydney reports that Katherine Nguyen is the first-ever Australian resident to plead guilty for cryptocurrency fraud after stealing 100,000 XRP.
In 2018, twenty-four-year-old Nguyen hijacked the email account of an elderly man of the same surname for two days before handing back access.
The first person charged over cryptocurrency fraud has pleaded guilty, swindling almost half a million dollars worth of the currency known as Ripple. Katherine Nguyen made no apology to her victim, aware she could be facing jail time when sentenced in October. @ebatten7 #7NEWS pic.twitter.com/iaU9YKgyHp

— 7NEWS Sydney (@7NewsSydney) August 23, 2019
It's unclear where the XRP was held, however, two days was more than enough for Ms. Nguyen to drain the account of all funds.
Detectives conducted a ten-month investigation following the theft that left digital crumbs all the way to Chinese exchanges.
XRP Fraud Case May Actually Provide More Legitimacy for Crypto
Cryptocurrency scams are a common occurrence these days. Their pervasiveness has fuelled the flames over the safety and legitimacy of digital currencies as an alternative form of money.
Ironically, this landmark decision may actually bolster crypto's utility. As Nguyen was leaving the court, 7News Correspondent Evan Batten asked her:
"Did you think you were going to get away with it because it just wasn't real money?"
Last year the Sydney Morning Herald reported that the theft was the first of its kind in Australia. Detective Superintendent of the New South Wales Cybercrime unit, Arthur Katsogiannis, explained:
"It's a very significant crime and it's the first we know of its type in Australia where an individual has been arrested and charged for the technology-enabled theft of cryptocurrency."
The landmark case suggests that Australian authorities, if nothing else, consider cryptocurrency a major store of value.
Let's Re-Check Those Figures
The 7News Tweet reports that in January 2018 Mr. Nguyen could fetch a lavish sum of around $450 000 AUD (≈$303,000 USD) for his XRP. Ripple has since dropped, however, by a staggering ninety percent leaving the net value of the holdings at a measly $26,700 USD.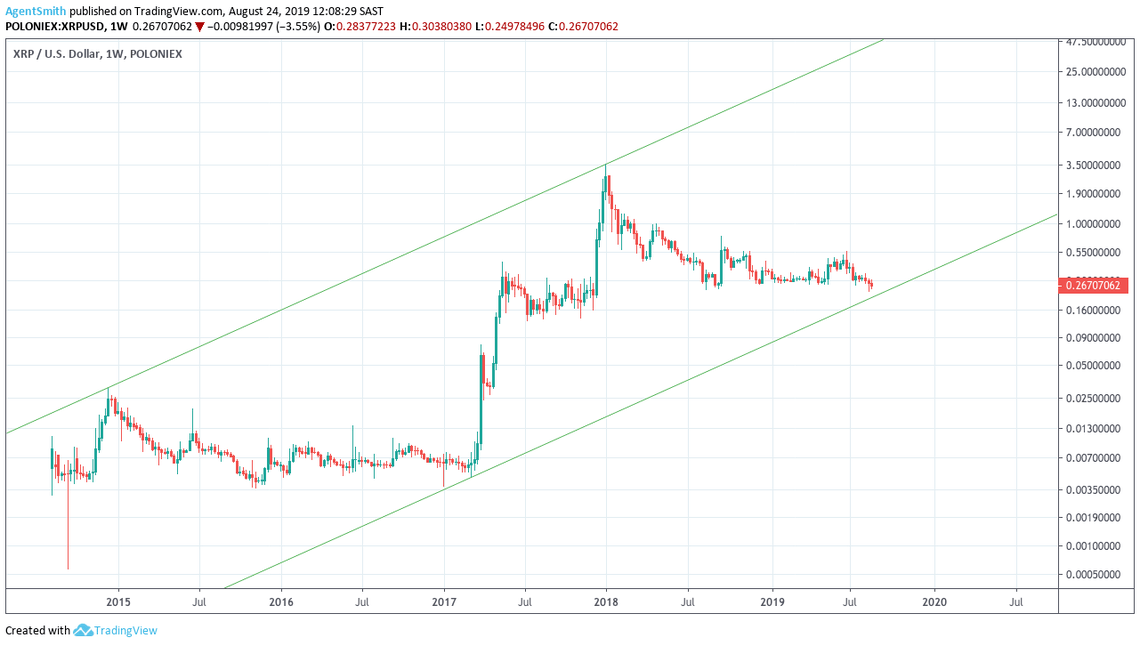 [If Ripple bounces off support, 100,000 XRP could be worth a lot more in the coming months. Source: TradingView]
XRP is currently approaching long-term support near the $0.25 area. If it holds its own and price resumes its upward trend, the holdings could be worth significantly more than when they were pinched.
Officials have given no further word on whether Mr. Nguyen will be compensated for his loss. The court will sentence Katherine Nguyen in October who may face jail time.
This article is protected by copyright laws and is owned by CCN Markets.