After bitcoin's parabolic renaissance sparked hopes of new highs back in April, the expectation of BTC reclaiming $20,000 has become a fleeting reality. In recent weeks, bitcoin has sluggishly ranged between $10,000 and $11,000, causing its trademark volatility to vanish.
Tranquil Bitcoin Market Leaves Traders Daydreaming of More Volatile Times
Research from cryptocurrency fund manager Blockforce Capital reveals that BTC volatility is currently languishing at a four-month low.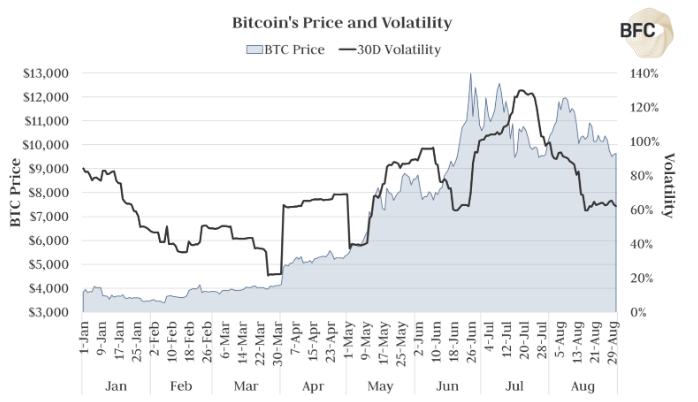 Volatility is measured by multiplying an asset's standard deviation, (i.e., how often a daily return varies from the mean value) by the number of days in a trading year.
Using price data from a variety of crypto exchanges, researchers determined that bitcoin's 30-day volatility stands at 53.5% – a low not seen since May 11.
Nonetheless, this isn't necessarily good or bad for BTC. According to researchers, given the lack of price performance, and the decline in volatility, neither the bears nor the bulls are firmly in control.
David Martin, chief investment officer at Blockforce Capital, first noted this apparent period of consolidation.
"So far in September, bitcoin's price has continued the consolidation and range-bound nature that was kicked off early August. As of this morning, bitcoin's volatility is now at a four-month low of 53.5%; a level not seen since May 11th."
A Storm's Brewing in the Crypto Market
It's unlikely that this lackluster volatility will stick around because bitcoin has a lengthy history of consolidation phases followed by explosive action.
Speaking to Forbes, Joe DiPasquale, CEO of cryptocurrency fund of hedge fund BitBull Capital, identified this as one of BTC's cyclical moves.
"Only after the consolidation phase is complete and new catalysts drive the market forward will we see retail interest, fresh capital flows and higher valuations," he said.
However, to make the bearish case, with multiple tests of the $10,000 support level now in its rearview mirror, BTC could imminently move south.
Key level here.

If we are going to bounce it happens here IMO.

No reason to be overly bearish until this level gives. pic.twitter.com/HSitT5y6mG

— Mayne (@Tradermayne) September 9, 2019
In any case, the launch of Bakkt in the next few weeks could reinvigorate the market. Whether that vigor takes BTC up or down remains to be seen.
Unfortunately for bulls, the announcement of the Bakkt warehouse last Friday correlated with a $700 bitcoin price plunge in what some have noted as a classic "buy-the-rumor-sell-the-news" dump.
Final update.

Slight dropdown creating some bearish divergences on the chart at this point.

Could still make another move towards $11,000, but more interesting is the negative reaction on Bakkt tweeting -> 'Buy the rumor, sell the news?' pic.twitter.com/aMCwTeJC1g

— Crypto Michaël (@CryptoMichNL) September 6, 2019
So, it could just be a matter of time until BTC is back with a bang. The question is, will the bulls or the bears be the ones holding the gun?
Last modified (UTC): September 11, 2019 4:56 PM