By CCN Markets: According to technical analysts and cryptocurrency traders, the bitcoin price is at a critical juncture following its indecisive weekly close and is waiting for confirmation for either a full short term trend breakdown or reversal for BTC.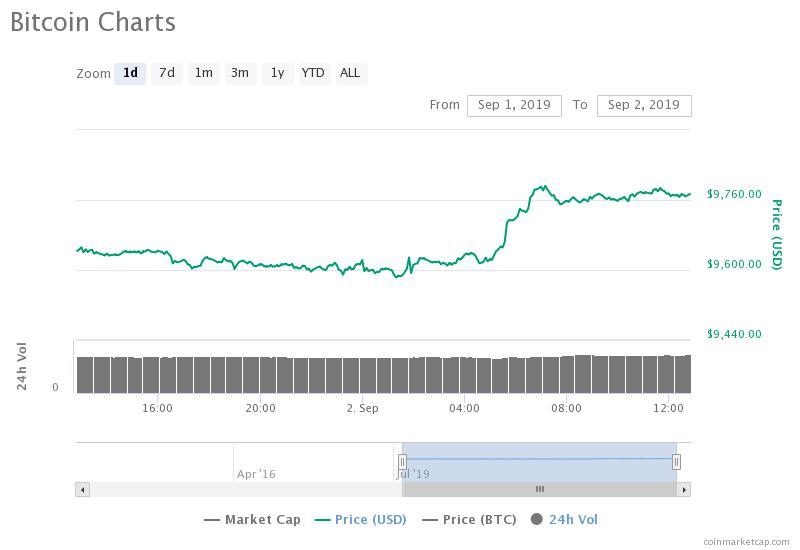 Since July, the bitcoin price has tested the so-called "range bottom" from $9,400 to $9,700 a total of six times, weakening the support over the past two months.
Due to the weakened support, analysts like Nick Cote, DonAlt, Scott Melker, and Josh Rager have said that if the bitcoin price fails to climb over key resistance above $10,000 in the near term, it may risk falling below the $9,000 level.
Is it likely for the bitcoin price to fall to lower support levels?
In the past 72 hours, the bitcoin price has gradually recovered from $9,300 to $9,700 in anticipation of its weekly close, similar to late July.
However, unlike the last time the dominant cryptocurrency bounced off of the range bottom, it has struggled to recover with strength possibly due to declining volume in the bitcoin and the cryptocurrency market in general.
The data provided by OnChainFX shows that the "Real 10" volume of BTC, which measures the daily volume of bitcoin exchanges said to have verifiable volume by Bitwise Asset Management, has declined to $350 million in September.
In comparison, the Real 10 volume of BTC achieved $2 billion in July and hovered at around $900 million in August.
If BTC fails to break above important resistance levels as a result of declining interest in the market, Cote emphasized that BTC is likely to test $9,100 as the next major support level.
Cote said:
"The bitcoin price has moved into the critical level of the bearish throwback. A move above this throwback would indicate a trend reversal for the bulls, with the immediate target of $10,300 Failure to breach will likely send us back to to test the $9,100 major support level."
Similarly, in late August, DonAlt said:
"Consolidating where it shouldn't. At this point, I'd be very surprised by any significant upside without a stop run taking place (Sub $9000). There just isn't any momentum on the bull side at key areas on the chart."
In the short term, technical analysts expect bitcoin to demonstrate volatility, either to break above $10,000 or break down below a key trend line, possibly dropping to the mid-$8,000 level, which also has a gap for the CME futures market.
#Bitcoin hash approaches 90 Quintillion. Per protocol's hard-coded Game Theory, hash precedes price. $28,000 in play.

— Max Keiser, tweet poet. (@maxkeiser) September 1, 2019
Investors like Max Keiser still remain optimistic on the long term trend of bitcoin, expecting the initiation of a new extended rally by the year's end.
Click here for a real-time bitcoin price chart.
This article is protected by copyright laws and is owned by CCN Markets.