Binance Coin suffered one of its worst losses this year on May 7th after hackers took off with 7,000 bitcoins. The heist cost cryptocurrency exchange giant Binance a total of $40 million.
Four months later, it appears that everyone has forgotten about the security breach. Binance is just as popular as ever, and its proprietary crypto token rallied to its 2019 high of $39.59 only one month after the mammoth theft.
Despite sliding back toward $21, BNB still ranks as the large-cap index's top performer over the past year. Its 123% surge is nearly double that of the runner-up, bitcoin.

While there are technical reasons behind the rally, its strengthening fundamentals could be the primary drivers of growth.
Binance Continues to Be the Most Dominant Crypto Exchange
Binance Coin is a utility token offered by Binance to its users. The crypto holders enjoy reduced trading, withdrawing, and listing fees when they use the crypto token to pay for these services.
Therefore, the value of Binance Coin is tied to the number of users buying the token. Notably, Binance uses a portion of its quarterly profits to buy back and "burn" BNB tokens.
While it is difficult to know the exact number of Binance Coin holders, we can gauge the strength of the token by looking at the daily volume of the crypto exchange. In this regard, Binance remains the undisputed leader with an average daily volume of over $1.62 billion.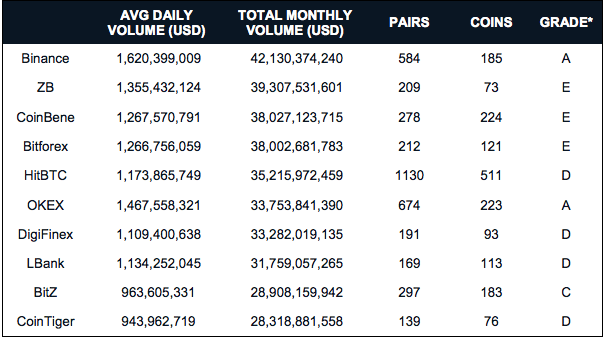 With a monthly average of over $42 billion, it is easy to see why Binance Coin demand has been steadily growing.
Binance Keeps Adding More Services
Binance also continues to attract more users as it expands its services.
For example, the crypto exchange recently launched margin trading. With this new feature, Binance hopes to attract "advanced institutional traders and retail traders," says CEO Changpeng Zhao.
On top of that, Binance has also launched the Binance DEX TestNet. Users of the decentralized exchange will use Binance Coin as gas to process trades. Thus, we can expect more users buying and selling the coin in the future.
Analyst: Binance Coin 'Leaning Bearish With Room for Upside'
In addition, "Trader Max" (also known as Bitcoin Jack), the lead analyst at Bravado Trading, told CCN that Binance Coin (BNB/USDT) is approaching a technical level where buyers can get excited.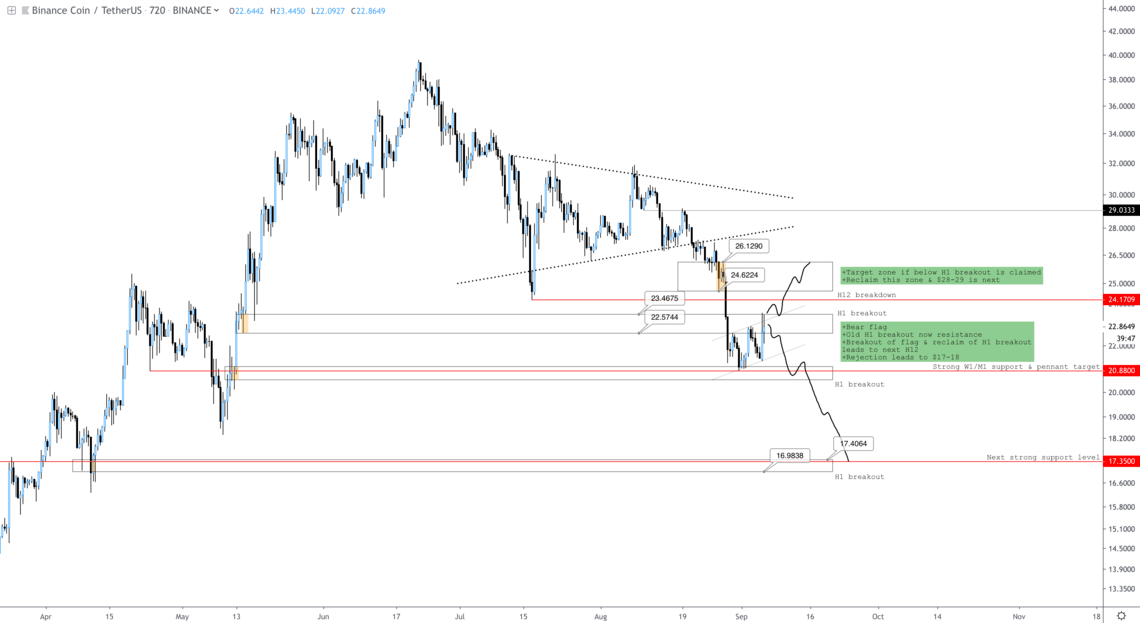 The analyst said:
"If the currently formed bear flag sees downward continuation, the next HTF support with LTF confluence lies in the $17-18 range. This would be an excellent spot to aim for longs and see a strong rally up."