By CCN Markets: Bitcoin has been hawked as a safe haven asset for quite some time now, with bulls crediting the rising price of the cryptocurrency in 2019 to macroeconomic uncertainties and geopolitical tensions arising out of the US-China trade war.
Recent price action suggests that bitcoin might finally be operating as a real-time macroeconomic hedge, as pointed out by economist and trader Alex Krüger.
Today was the first time $BTC reacted sharply in *real-time* to a Trade War breaking headline or $USDCNY fix. pic.twitter.com/Usibh3bSD5

— Alex Krüger (@krugermacro) August 23, 2019
Bitcoin price takes off after Trump tweets
President Donald Trump went on a characteristic tweetstorm yesterday, railing against China and increasing tariffs on imports from the Asian nation.
…unfair Trading Relationship. China should not have put new Tariffs on 75 BILLION DOLLARS of United States product (politically motivated!). Starting on October 1st, the 250 BILLION DOLLARS of goods and products from China, currently being taxed at 25%, will be taxed at 30%…

— Donald J. Trump (@realDonaldTrump) August 23, 2019
…Additionally, the remaining 300 BILLION DOLLARS of goods and products from China, that was being taxed from September 1st at 10%, will now be taxed at 15%. Thank you for your attention to this matter!

— Donald J. Trump (@realDonaldTrump) August 23, 2019
Trump's tweets came after China announced that it would place additional duties of up to 10% on imports from the US, beginning Sept. 1.
Not surprisingly, an infuriated Trump responded by imposing higher tariffs on Chinese goods, and once he was done with his counterattack, the price of bitcoin shot up sharply.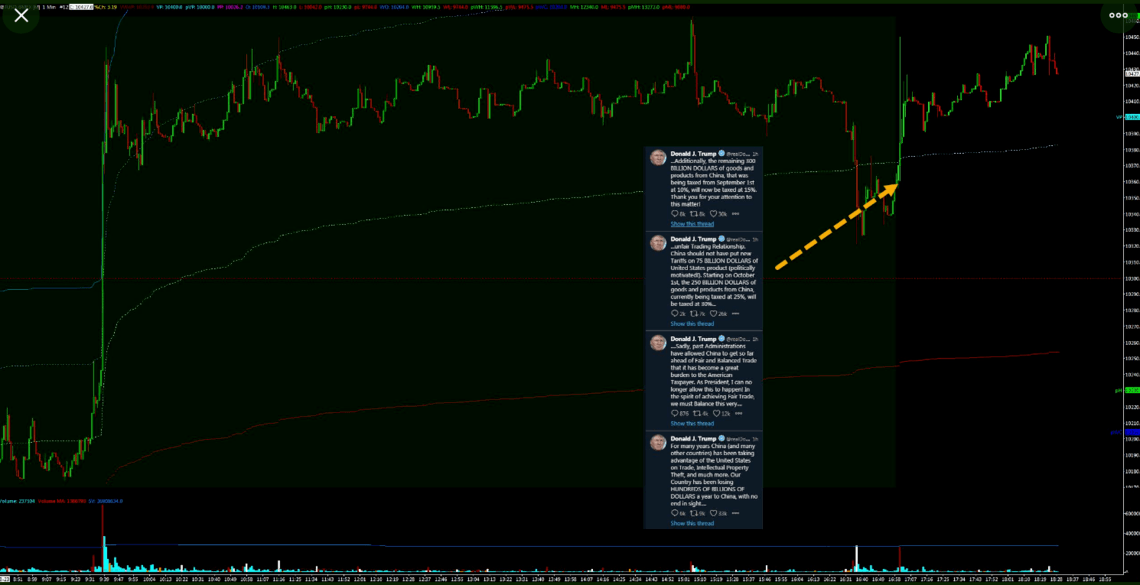 The price reaction of the flagship cryptocurrency is consistent with what a macro hedge such as gold would do in such a situation, with investors piling into the crypto asset to save their portfolios from the fallout of a protracted trade war.
Of course, the rally didn't hold, and BTC has since slid back below $10,000.
Is gold finally old?
Nevertheless, bitcoin bulls believe that the cryptocurrency will eventually replace gold, and the price action immediately following Trump's tweets seems to reaffirm that view.
What's more, bitcoin trading activity reportedly increases when macroeconomic uncertainty arises.
Business Insider reports that bitcoin trading volume surged 284% between May and August this year compared to March-June 2018 – the period just prior to the trade war. Gold, which is considered to be the original safe-haven asset, saw an increase of "only" 73% over the same period.
These numbers provide further evidence that bitcoin is probably on its way to either replace – or at least replicate – gold as a stock market hedge.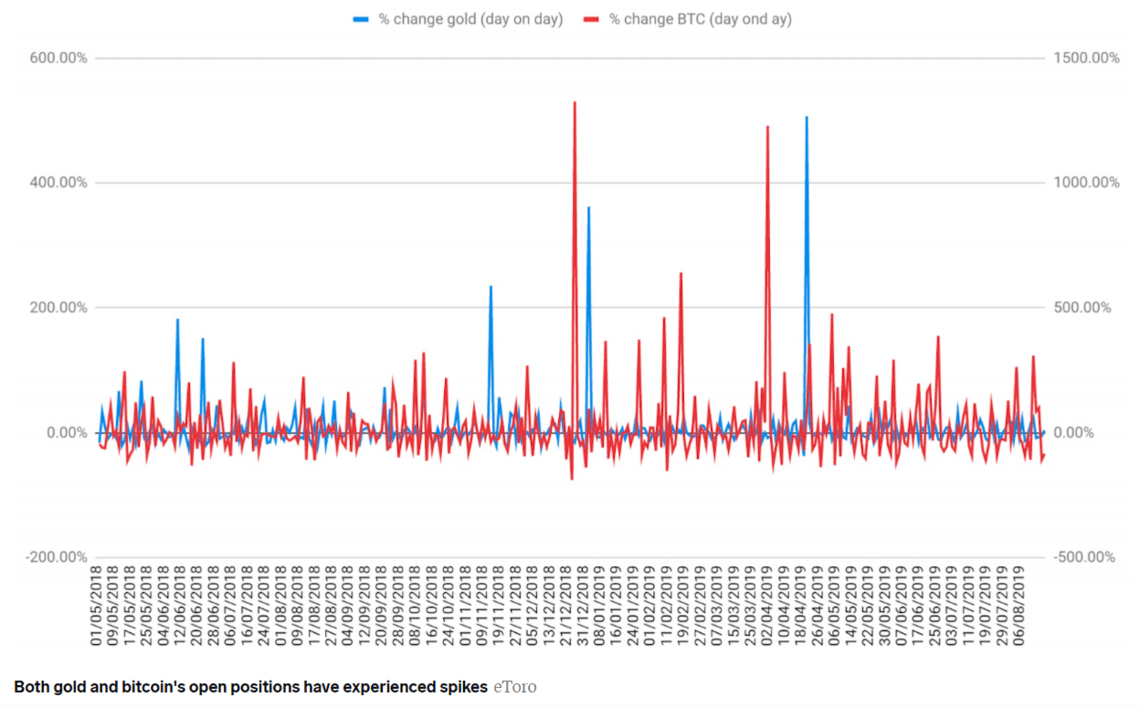 Of course, questions have recently been raised over the status of bitcoin as a replacement for gold and its ability to hold ground in times of economic distress, but the flagship cryptocurrency appears to be maturing in that department.
Albeit slowly.
Click here for a real-time bitcoin price chart.
This article is protected by copyright laws and is owned by CCN Markets.