Thursday, Aug. 29 — Top cryptocurrencies Bitcoin (BTC) and Ether (ETH) are still in the red, though XRP has managed to see minor gains on the day. 
Market visualization. Source: Coin360
Bitcoin is trading at $9,496 at press time, marking a 1.85% price drop on the day. Yesterday, BTC, ETH and XRP all dropped sharply in price from 5:45 p.m. to 6:20 p.m. UTC. BTC in particular fell below the $10,000 price point, and continued to slip to under $9,500 earlier today. Regular contributing analyst Josh Rager commented that he thinks BTC needs to close out the week — on Sunday —  over $9,533 to avoid forming a "lower-low" support level.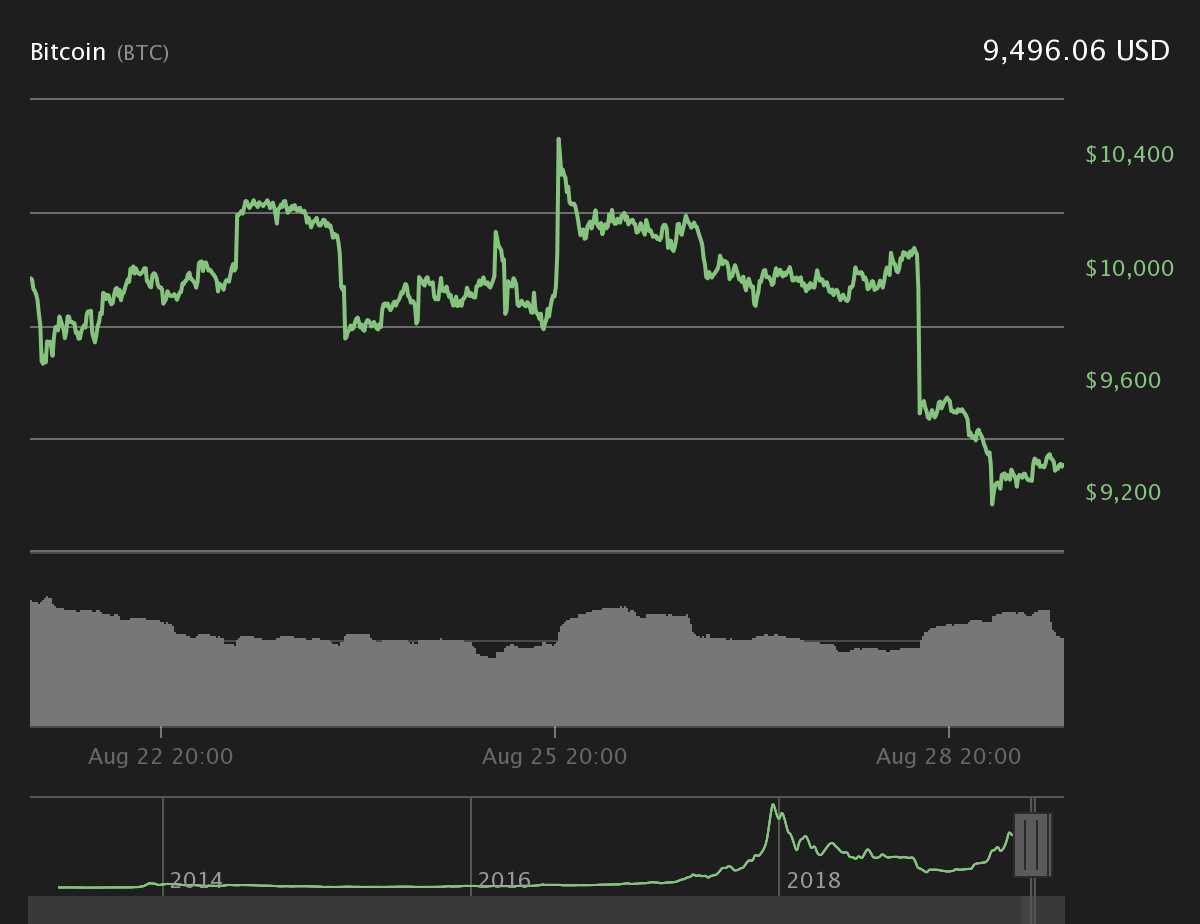 Bitcoin 7-day price chart. Source: Coin360
At press time, the second-largest cryptocurrency Ether (ETH) is trading over $169 and is down by 0.93% on the day. As CryptoX reported earlier today, blockchain software development company Parity has released an update for its Ethereum node software. The previous version apparently could be remotely crashed via a certain type of Remote Procedure Call or RPC. Parity also recently said that it needed until Sept. 6 to finish implementing its Ethereum Improvement Proposals, or EIPs, which may delay the launch of Ethereum's next mainnet hardfork.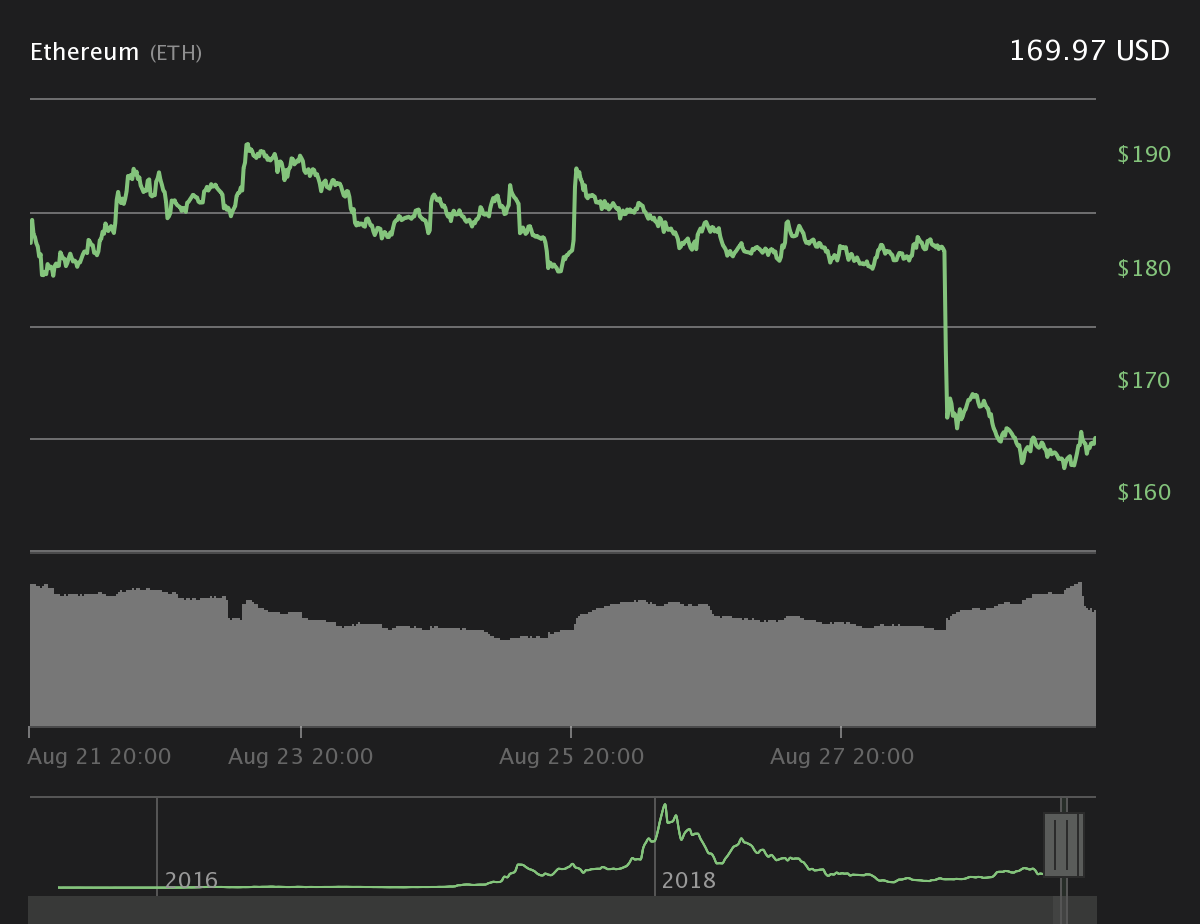 Ether 7-day price chart. Source: Coin360
XRP, the second-largest altcoin by market cap, is trading at $0.258 and has gained 1.79% on the day as of publishing time. Yesterday, a major Twitter user threatened a network takeover if Ripple executives continue to dump XRP. The Twitter user @CryptoBitlord, who has around 102,000 followers, Tweeted at Ripple's CEO and CTO with the following message:
"Brad Garlinghouse, Joel Katz, you now have 60 days to stop dumping XRP or we will stage a community takeover. If it's a decentralized network like you say, we have the power to do it."
CryptoBitlord previously started a change.org petition against XRP dumping, which has received over 2,600 signatures at press time.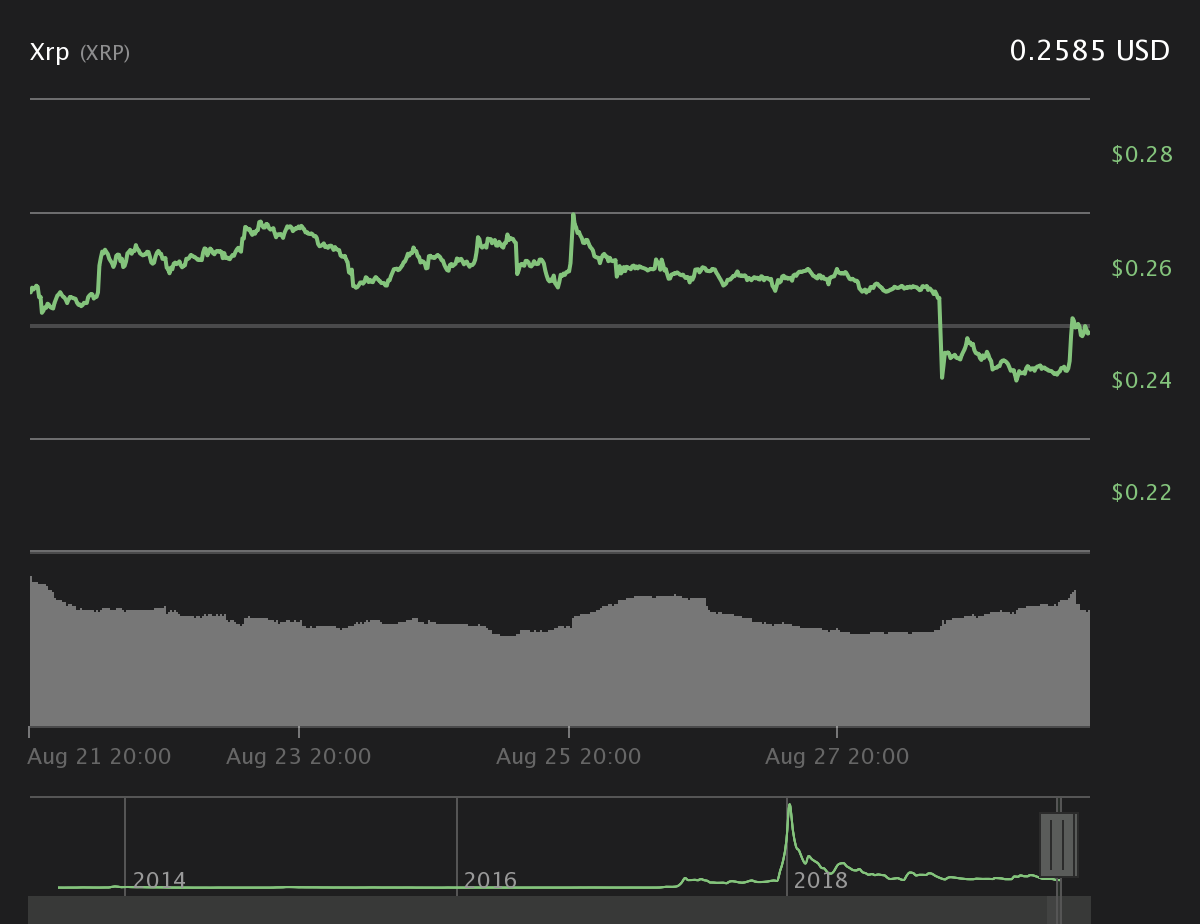 XRP 7-day price chart. Source: Coin360
Among the top 20 cryptocurrencies, the ninth-top crypto Bitcoin SV (BSV) is trading at $128.23 and up by 2.53%. The cumulative market cap of the top 100 cryptocurrencies is over $253 billion at press time, per data provided by Coin360.
Keep track of top crypto markets in real time
here