Coming every Sunday, Hodler's Digest will help you track every single important news story that happened this week. The best (and worst) quotes, adoption and regulation highlights, leading coins, predictions and much more — a week on CryptoX in one link.
Top Stories This Week
Ripple turned heads this week when data from Whale Alert suggested the fintech startup has transferred 500 million XRP tokens from its escrow wallet — funds worth $130 million. This isn't the first time that the California-based company has executed such an enormous transaction, and some factions of the XRP community are angry. Concerned that prices are crashing, Twitter user Crypto Bitlord started a Change.org petition urging the fintech startup to stop dumping, adding: "It's amazing this sort of behavior is widely accepted in the crypto world." Thursday saw yet another petition adopt a more sarcastic tone, urging Ripple to increase the dumping of XRP and "unleash the utility!" The company says it is selling XRP to invest in firms that could help its ecosystem grow and to fund its operations.
After last week's bombshell court ruling that Craig Wright needs to pay 500,000 BTC to the estate of a former colleague — an eye-watering sum worth more than $5.2 billion — the self-proclaimed Bitcoin creator isn't going down without a fight. The entrepreneur's attorney has filed documents requesting a 14-day extension so he could file a motion challenging Judge Bruce Reinhart's order. The document questioned the judge's authority, and even misspelled his name. Wright's Florida-based legal team originally had until Sept. 10 to challenge the order but say they need extra time because they were distracted by the impending arrival of Hurricane Dorian.
We've had the iMac, iPod, iPhone and iPad… could an iCoin be in the cards? Jennifer Bailey, the vice president of Apple Pay, has dropped a hint that the tech giant is keeping a close eye on developments in the crypto industry. She told a CNN journalist at an event in San Francisco: "We're watching cryptocurrency. […] We think it's interesting. We think it has interesting long-term potential." There's little doubt that Apple's interest would have been piqued further by Facebook's white paper for Libra, which was released back in June. Although analysts have said a similar project from Apple "would be a major shot in the arm for crypto," there would likely be intense scrutiny from U.S. politicians — and it's unclear whether the company has the stomach for such a fight.
Big news for German burger fans this week: Burger King has started accepting BTC for online orders. The option of paying in crypto was discreetly added to its delivery website and mobile application in Germany, but it's unclear whether the payment method is being accepted in the hundreds of physical restaurants it has across the land. This isn't the first time that the fast-food chain has embraced crypto, either. Burger King Russia began accepting BTC payments in the summer of 2017 — and even introduced the Whoppercoin, its own digital currency.
There was a lot of head scratching going on this week when someone moved 94,504 BTC — worth a billion dollars — and spent a whopping $700 on fees. Given the sender could have settled the transaction in 10 minutes for a fee of about $35, the crypto community was left baffled as to why they ended up paying 20 times more. The recipient wallet of the astronomical sum is now presumed to be the richest address that isn't linked to an exchange. Analysis suggests that a substantial amount of the funds originated from the Huobi exchange, and there's also speculation that the transfer could be tied to the launch of the Bakkt institutional trading platform.
Winners and Losers
At the end of the week, Bitcoin is at $10.436.38, Ether at $180.54 and XRP at $0.26. The total market cap is at $267,239,222,785.
The top three altcoin gainers of the week are Alpha Token, Credit Tag Chain and WomenCoin. The top three altcoin losers of the week are Custody Token, SuperCoin and BigUp.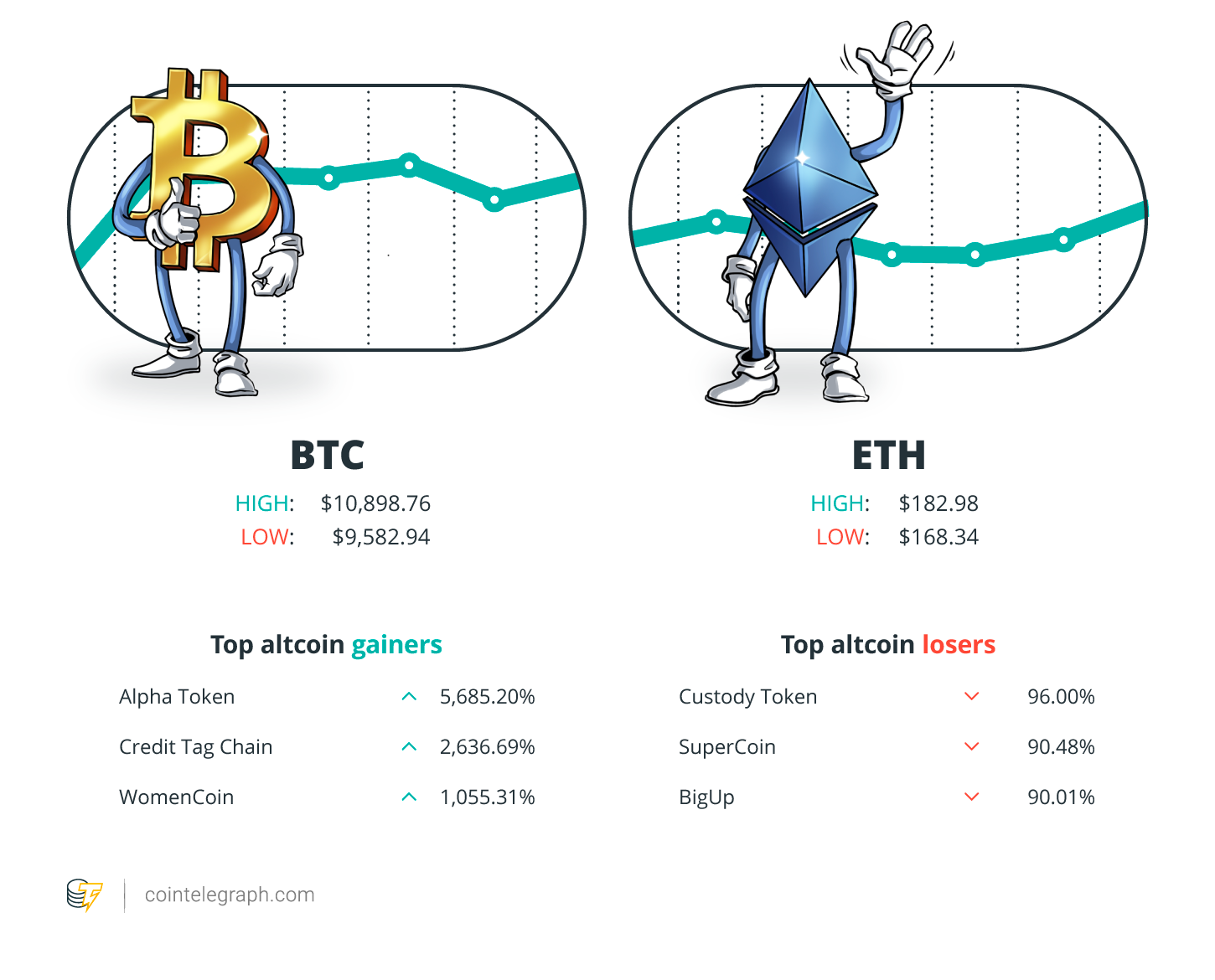 For more info on crypto prices, make sure to read CryptoX's market analysis. 
Most Memorable Quotations
"It's not functional as a currency. The peaks and troughs are like an investment asset and are equivalent to gold. What we need to do is make it more usable and accessible as a currency, but it's not there yet."

Jack Dorsey, Twitter and Square CEO
"Satoshi should win the Nobel Peace Prize. We finally have a currency that can assume global reserve status without anyone having to engage in violence."

Anthony Pompliano, co-founder of Morgan Creek Digital Assets
"Alts never coming back… Sorry."

Max Keiser, RT host and ex-Wall Street trader
"Ethereum, as many of you know, confounds me. It has shown the way to so many important things. […] But it remains hard to build on, scaling issues abound, and many developers are looking elsewhere."

Fred Wilson, co-founder of Union Square Ventures
"We're watching cryptocurrency. […] We think it's interesting. We think it has interesting long-term potential."

Jennifer Bailey, vice president, Apple Pay
"I sincerely hope that the people of Europe will not be tempted to leave behind the safety and soundness of established payment solutions and channels in favor of the beguiling but treacherous promises of Facebook's siren call."

Yves Mersch, European Central Bank legal official
"You're such a meme. I feel sorry for Tron investors."

Josh Ragen, crypto commentator, to Tron CEO Justin Sun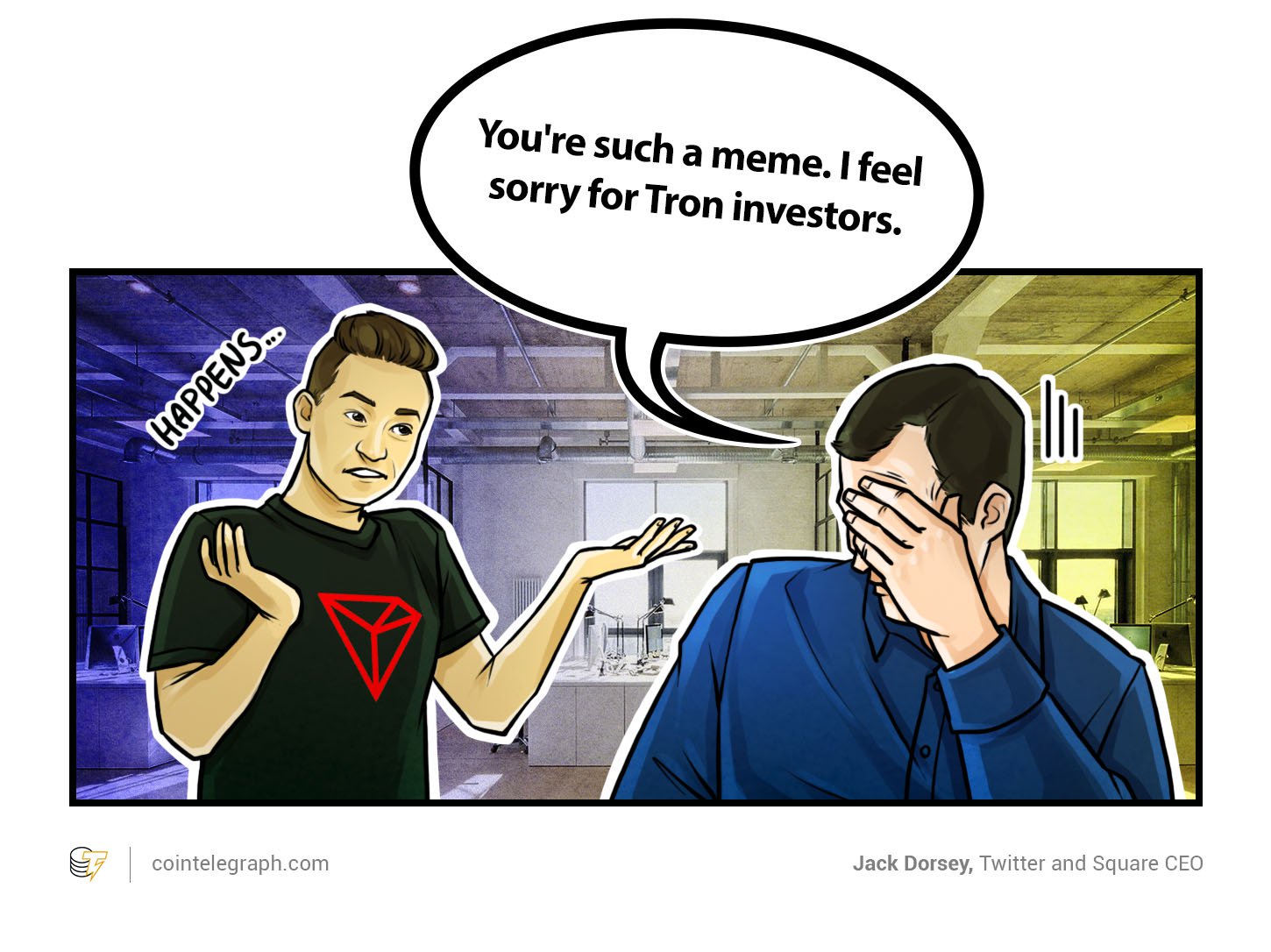 FUD of the Week
Crypto cat fight! Tron's embattled CEO, Justin Sun, was accused this week of buying up to 6,000 Twitter followers a day — likely in an attempt to make his profile seem more popular than it actually is. Figures from SocialBlade show an average of 5,001 accounts started following the Sun on a daily basis from Aug. 20 to Sept. 2. This sparked a withering putdown from crypto commentator Josh Rager, who told Sun: "You're such a meme. I feel sorry for Tron investors." Crypto Twitter subsequently reacted with a mix of derision and defensiveness, with one user telling Rager: "He is a meme yes. But that doesn't mean the product is crap. So far it works quite good."
Jack Dorsey gave a candid interview to the Australian media this week, admitting that Bitcoin currently isn't functional as a currency. But, striking an upbeat tone, he said BTC has potential to get there if it becomes more usable and accessible. The entrepreneur said Square will shift its focus to services that add value, rather than enable money to be moved around, once crypto reaches the magical milestone of becoming the currency of the internet. Dorsey was Down Under for the launch of the Square Terminal, an all-in-one credit and debit card machine.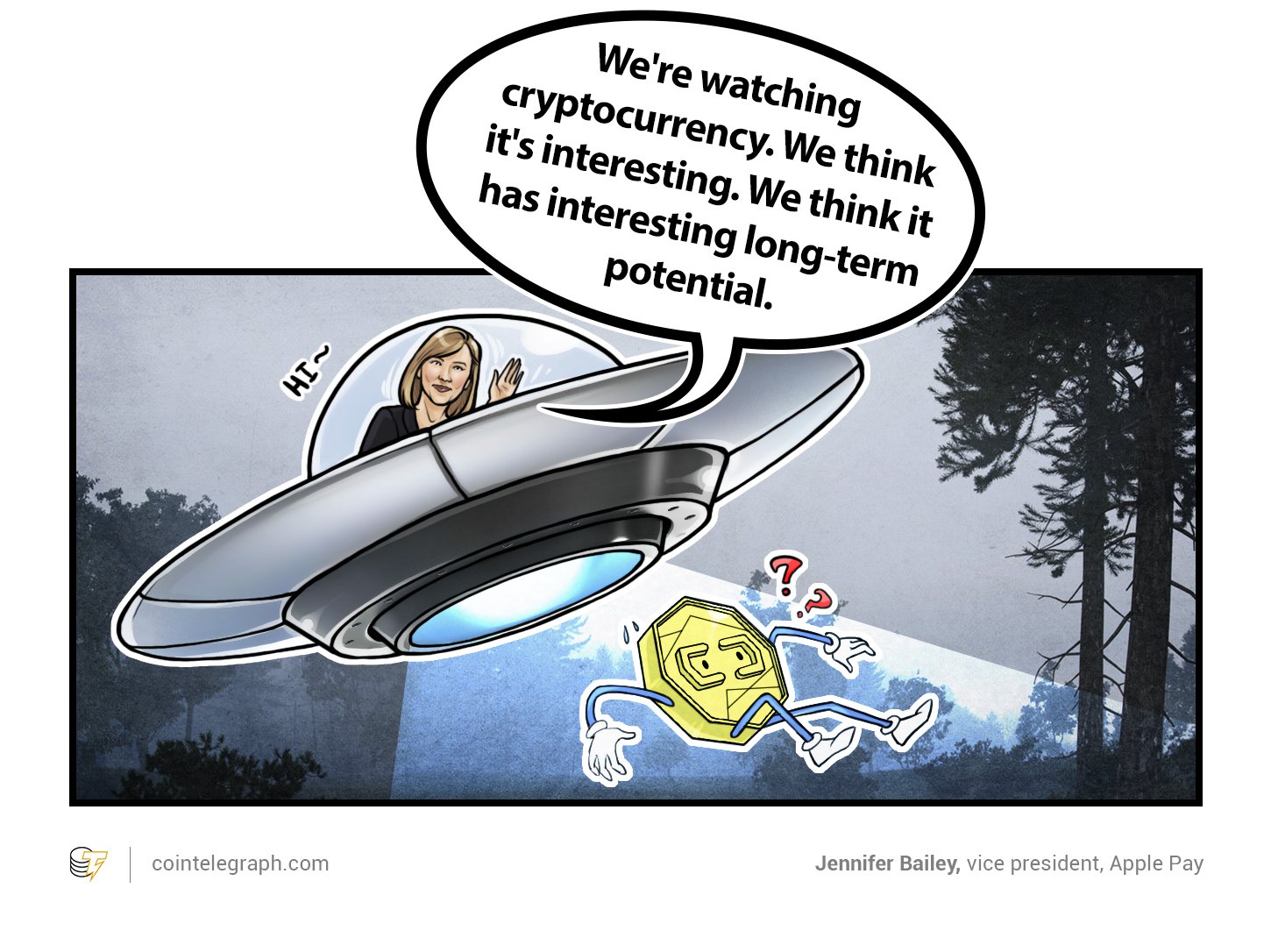 And now, friends, a tale in how not to commit a crime. A man swiped someone's cell phone and allegedly stole crypto worth $15,472 from a Coinbase account on the device — transferring it to his PayPal account. Perhaps feeling guilty for what he had done, Darren Carter then decided to send an email to the victim to apologize, but instead ended up sending the message to the detective investigating the case. Police went to arrest the suspect but discovered he was already in jail in Connecticut on unrelated charges. Thankfully, the stolen funds have now been returned to their rightful owner. 
Best CryptoX Features
How far have the Big Four companies — Deloitte, PwC, EY and KPMG — come in exploring distributed ledger technology? And can blockchain offer any particular perks? CryptoX's Stephen O'Neal examines their continued expansion into the field.
The United States Internal Revenue Service says it is digging hard when it comes to crypto — investing tax evasion and poor compliance. Here, Robert W. Wood explores the distinction between willful and non-willful tax flubs in an Expert Take for CryptoX.
The online drug trade is on the rise. Henry Linver delves into Bitcoin's involvement in this murky space and asks whether it could completely replace cash in the near future.