Critics have been trying to spread fear, uncertainty, and doubt on the No. 2 cryptocurrency in light of its scaling issues. It's true that Ethereum is struggling with congestion as network utilization is above 94 percent. As a result, it becomes costly to run applications.
Nevertheless, the cryptocurrency's biggest problem appears to be its source of strength. The network is congested because there are so many developers building decentralized applications (DApps) on the blockchain. In addition, the scaling issue is temporary, as the Ethereum community has a solution with a timeline in place.
Ethereum Dominates All Cryptocurrencies in Number of Developers
When it comes to the number of developers working on an ecosystem, Ethereum is king of the hill. It is so overwhelmingly dominant in this regard that the runner up is so far behind.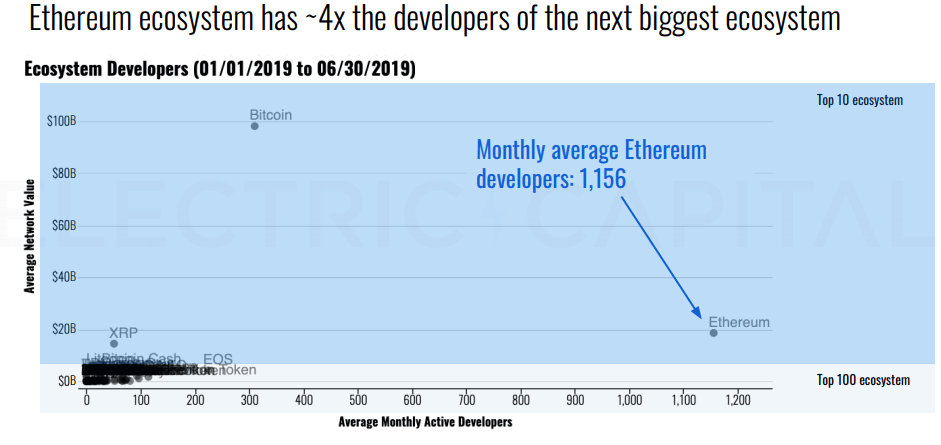 According to a recent study by Electric Capital, there are 1,156 monthly average developers. That number is four times greater than the next biggest ecosystem, which is Bitcoin. The study also noted that other ecosystems and crypto networks have fewer than 250 developers.
This metric is so important because the cryptocurrency with the highest number of developers is likely the one that has the most value.
Ethereum Leads All Platforms in Total DApps
Another reason why the Ethereum network utilization is sky high is that it leads all blockchains in total DApps and daily active users.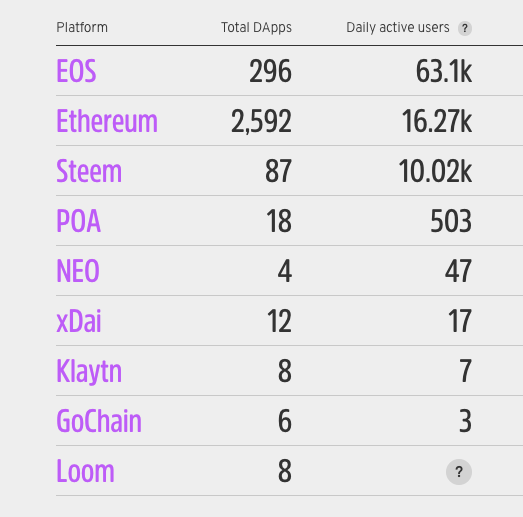 DApp usage has been steadily growing that it's no wonder that the network is congested. This issue won't last though, as the Ethereum community is working towards a solution.
Introduction of Sharding in Early 2020
The Ethereum ecosystem plans to eliminate its scalability issue with a long-term solution in sharding. Simply put, sharding breaks up the blockchain into smaller segments. This will lead to a significant uptick in transaction speed.
According to an Ethereum Foundation call, sharding will be launched by January 2020. Hence, we're a few months away from a monumental development in the Ethereum network.
Analyst: Ethereum Is Short-Term Bearish
Scott Melker, also known as the Wolf of All Streets, spoke to CCN and shared his stance on the coin. The Texas West Capital trader said:
"Price has found support in the green demand zone and is presently working towards breaking descending (dashed) resistance. A move through that line would indicate likely further price appreciation."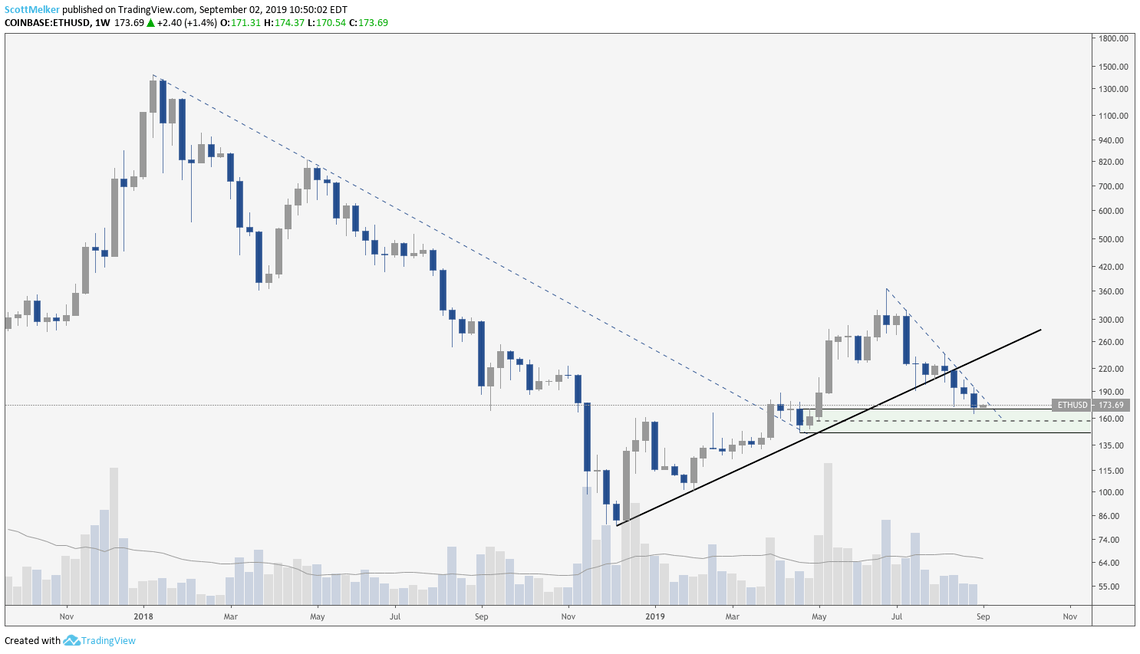 Disclaimer: The views expressed in this op-ed are solely those of the author and do not represent those of, nor should they be attributed to, CCN Markets.