The Hurricane Dorian relief effort has teamed up with an unlikely ally to help the Bahamas recover from the devastation wrought by the storm: Bitcoin.
Coinbase & Bitpay facilitate Bitcoin donations for Hurricane Dorian recovery
This has become possible after Lend a Hand Bahamas, a charity organization based on the Caribbean island nation, set up an account on crypto payment service Coinbase Commerce in the aftermath of Hurricane Dorian.
Looking for a way to help those affected by Hurricane Dorian? Lend a Hand Bahamas has set up a Coinbase Commerce account to easily accept crypto donations for relief efforts. Donate here:https://t.co/RelnGlc4L2
And learn more about Lend a Hand Bahamas: https://t.co/HR3RCLC77l

— Coinbase (@coinbase) September 4, 2019
According to Lend a Hand Bahamas, cryptocurrency donations will be specifically used to fund educational initiatives.
Besides Coinbase, crypto enthusiasts can also donate to assist in the Hurricane Dorian relief efforts in the Bahamas via Bitcoin payment service provider Bitpay.
Track your crypto donation every step of the way
Though the Bahamian charity is using an intermediary to process the crypto donations, supporters believe blockchain technology could revolutionize the philanthropy sector.
With charities required to maintain the highest standards of transparency and accountability to retain the confidence of their benefactors, cryptocurrencies offer the perfect solution. This is because crypto donations can easily be recorded and tracked using the blockchain ledger.
Charity organizations could also benefit from reduced costs when accepting donations directly, as there would be no middleman to tack on transaction fees.
Additionally, cryptocurrencies allow charity organizations to easily accept donations from any part of the world without having to deal with draconian currency conversion fees.
Crypto fundraising takes off
Using crypto to fund charitable causes is an excellent way to advance blockchain awareness while supporting worthy relief efforts. Just this year, there have been calls for crypto donations to help causes from South America to Europe.
In April, there were several efforts to raise cryptocurrency donations to meet the costs of rebuilding the iconic Notre Dame Cathedral in Paris, France.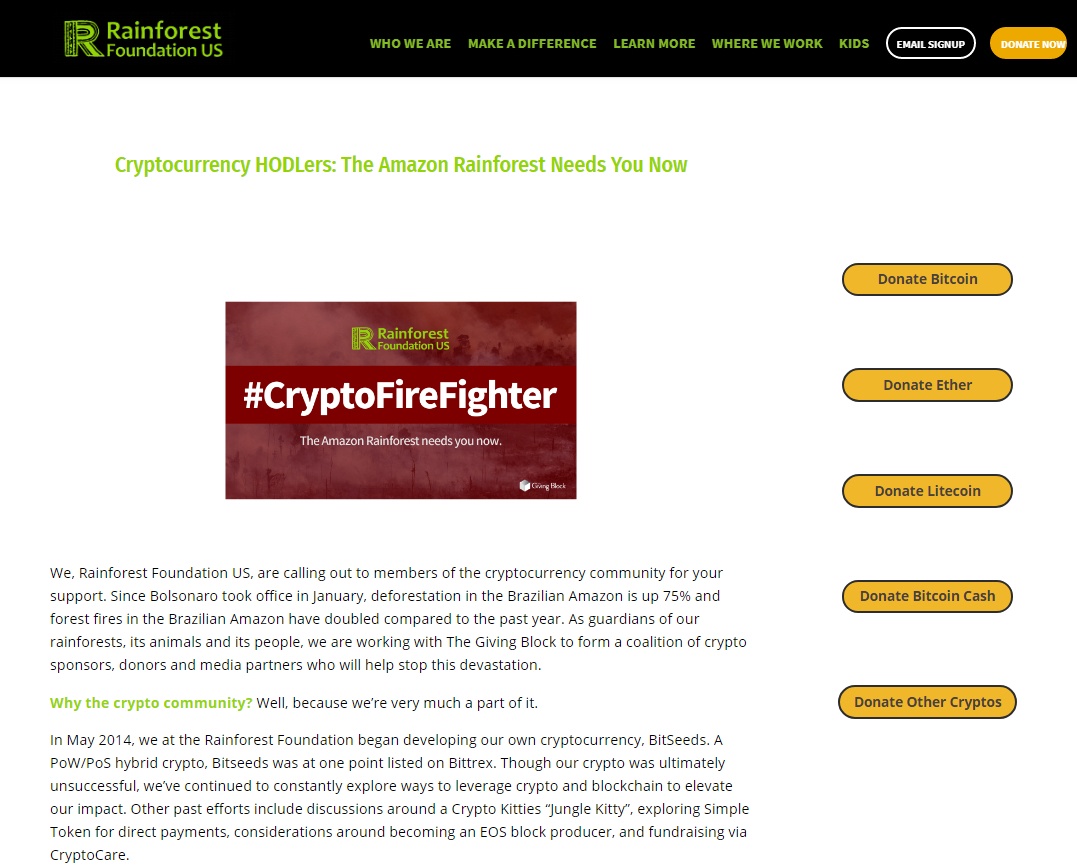 In addition to Hurricane Dorian recovery, the Rainforest Foundation US recently called on "Cryptocurrency HODLers" to fund the Amazon rain forest's fight against devastating forest fires.